SQL Editor
The SQL Editor is the heart and soul of SQLThing. It is the interface you use to create SQL statements, test statements, debug statements, export results, format grid reports and a host of other activities. Here is a picture of the editor interface: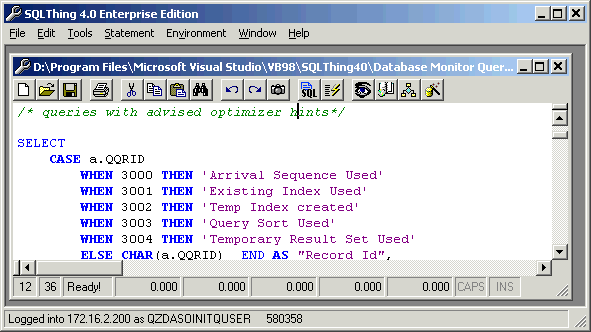 The following information is available about the editor:
SQL Editor and Data Window Movie This is a flash presentation of using the editor and the data window.
SQL Editor Documentation Pages This link opens HTML pages of the SQLThing Editor documentation.
SQLThing Procedure Editor This link shows the procedure editor interface in a flash presentation.
SQLThing Query Diagram This link shows an interactive flash presentation of the query diagram function available from the SQL Editor.
Query Wizard Advanced Movie This link shows the query wizard, but after the wizard it shows how to format a report using the data window.